I Key Tracker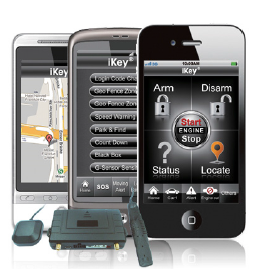 Don't need an insurance approved tracker maybe you should have a look at this stunning self tracking unit where you can view where your vehicle is located at any time plus you can immobilise the vehicle from your smartphone.
No Subscription costs!
The new iKey Smartphone tracking system from Synergy Automotive Electronics, will provide you with peace of mind and security, with the added benefit of unique features to control your vehicle remotely from anywhere in the world. All this without any monthly charges, you can use any PAYG or contract SIM if desired. The following features are available, some may require an additional interface and installation.
Control your vehicle remotely via your Android®, Blackberry® or iPhone®
Locate your vehicle — Use the Locate tab to provide an instant Latitude/Longitude reference, plus a Google Maps link to the vehicle's location in real time.
Receive alarm alerts from your original equipment or aftermarket alarm system.
Remotely lock & unlock your vehicle from any distance.
Remotely Immobilise your engine to provide additional vehicle security
Geo Fence your vehicle — alert given when your vehicle enters or exits a pre-set zone defined by the user in the Smartphone App settings.
Speed warning — alert given when the vehicle exceeds a set speed for a certain period of time, set within the Smartphone App settings.
Park & Find — Never lose your car again in the Airport or Shopping Centre. You can park your car, then the system will guide you back without any distress. In addition, the App provides you with a timer & alarm to avoid parking fines.
Please Note: The SIM Card balance feature within the App, is disabled in the UK and we do not currently offer a hardware version with remote start.